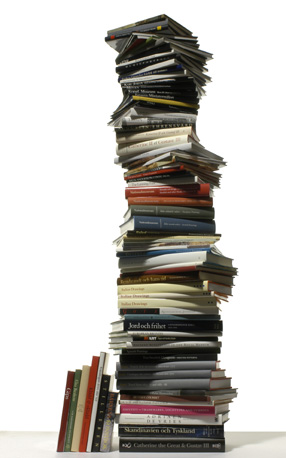 I am growing what seems to be a never ending stack of books. A couple of months ago, Touro sent me a list of 'Required' and 'Recommended' text books for First Year students. At last, the time for real-deal medical books has come...or so I thought.

Buying Medical School Books

After receiving some feedback from veteran students and practicing physicians, I saved hundreds of dollars. Actually it was rather intuitive; do NOT purchase the 'Recommended' books. They certainly may contain some useful information, but I think I will have plenty to read within the covers of my 'Required' library that superfluous texts will only add to my lack of time.

With that decision made, the list was cut in half, leaving me a little less in debt. The remaining 20 books, however, are starting to make my shoulders ache just thinking about carrying them to class.

Since I have not yet received my loan reimbursement, the new problem is being able to pay for $2500 worth in books. My solution has worked thus far and costs approximately $250 every pay check. I made an initial order and waited for the shipment to arrive before selecting the next handful of texts to purchase. It is exciting to think I am one order away from having all my books and the projected total is a little more than $1000.

Bargain Prices

Some students opt to borrow or share texts with their neighbors. Good idea, but I plan to spend some serious time with my books. TUNCOM has an online bookstore that gives back to the school when used to purchase texts as many schools probably have. This is great for the school, unfortunately there is very little discount to the student.

There is an option for getting the books for free, since that includes the military, that option is out for me. As most students are doing now, I turned to the internet's vast library of cheap books. Although there are many online stores for purchasing text books, the two with the greatest savings are no surprise. Between ebay's half.com and omnipresent Amazon, there is a lot of saving power.

The part I like is that you are helping other people sell their books. I imagine down the road I will have to sell mine too, so it is a way to build up positive karma I suppose. Perhaps you are more into funding a 'better' cause. In that case you may be interested in purchasing books for full price and then some at Better World Books who make an effort to stamp out illiteracy.

If used books are viable options, prices can be significantly reduced. Other considerations may be older editions, borrowing, and buying the books as soon as possible. I learned this the hard way. When I first performed my book search, the prices were almost one third of the original. Now only weeks away, costs are up as the cheaper selections have already been bought by others.

Between the Book Covers

As I searched the confines of Amazon, I came across the 'wish list' feature. When you find something you like, you simply click the wish list button to add it and others can see what you want. My list became an organizational tool for me, but if you have a gift giving event coming up, you may consider sharing your wish list with others. Who knows, perhaps they will be able to help cut down on the costs for books and supplies.

With work and preparations to move, opening these books has not been the first thing on my list of priorities. They certainly look attractive though. Knowing I will have plenty of time to digest the material, I am enjoying my vacation now while I am still ahead. For now the mystery will maintain my intrigue.